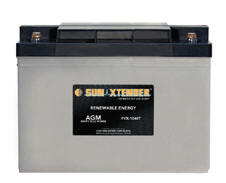 Sun Xtender® Series Batteries have been designed and developed to meet the needs of the Renewable Energy Industry. They are sealed, maintenance free,
valve regulated, deep cycle, long life lead acid batteries that never require water
or addition of electrolyte. These batteries are AGM (absorbed glass mat).

Sun Xtender® Batteries are sealed and non-spillable making them incredibly safe. They are able to operate upright, placed on their side or end. Because they are sealed and not prone to gassing or the potential corrosion of flooded batteries, Sun Xtender® Batteries are ideal for inside storage, on racks, in battery boxes, or outdoors. Sun Xtender® Series Batteries are environmentally friendly, recyclable, and UL Recognized Systems Components.

Uses for the Sun Xtender® Series Renewable Energy Storage Batteries include both grid tied and off grid renewable power systems and backup power. Some application examples are telecommunications, residential power systems, village power, supervisory control & data acquisition (SCADA), aids to navigation (sea & air, including runway lighting), telemetry RTU monitoring and solar powered 2-way radio repeaters .