Hot stuff at Oasis Montana! Last year's garden was very successful; at this writing, we are still eating carrots, 'taters, garlic, and the last of the squash. And we are also enjoying our dried apples, plums and peaches, as well as several types of fruit wine. But what gets us through these cold Montana winters are the hot peppers! We've been seed-saving a couple of varieties for several years, and our favorites are a Cayenne type and another we call a Portugal pepper. They're both hot, around 60,000 Scoville units or better. The Cayenne is a long, slender pepper that hangs down on the plant and the Portugal is shorter, fatter and is held upright. Both are as easy to grow as tomatoes; I start them around the first day of spring and set them out in mid-May (and they are pretty enough to be grown as ornamentals). By late July, I am getting red peppers, and right before the first hard frost I pull up the plants and hang them in my windows. The remaining green ones will eventually turn red. We have a grinder dedicated to the peppers, and

when we process a batch, it makes the entire house radioactive! The coughing and sneezing is a pretty good indicator that it's pepper-grinding time--it's a tearful experience….

This year we are offering to share our pepper seed; if you will send us a self-addressed, stamped envelope, we will send you a few seeds of either or both (please specify) of whatever pepper you would prefer. Hot stuff is GOOD!
FREE COPY OF AN IMPORTANT BOOK: It's Lester R. Brown's "Plan 3B, Mobilizing to Save Civilization". You can download the entire thing or parts for free at http://www.earth-policy.org/Books/PB3/Contents.htm; subjects include Deteriorating Oil and Food Security, Climate Change, Shrinking Forests and Growing Deserts, Eradicating Poverty, Restoring the Earth, Stabilizing the Population, Rethinking Land Productivity, Designing Cities for People, Raising Energy Efficiency, Turning to Renewable Energy, and Saving Civilization.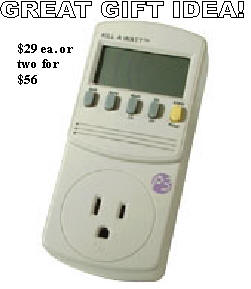 Kill A Watt Meter: The Electricity Detector and Monitor can educate you about your monthly electric bill and help you save a lot of money. You can now be a 'detective' and ascertain what appliances are actually worth keeping plugged in. Simply plug in the Kill A Watt meter, connect your appliances to it and Kill a Watt will assess how efficient it really is, showing you the instantaneous power used, and also cumulative energy or kilowatt-hours used.
Kill a Watt, with large LCD display, will count consumption by the kilowatt-hour, same as your local utility. With the help of Kill a Watt you can figure out your electrical expenses by the day, week, month or year on a given device. Kill a Watt can check the quality of your power by monitoring Voltage, Line Frequency, and Power Factor.
Still just $29.
Now you'll know if it is time to install a power strip on your entertainment center instead of feeding those ghosts loads while you are sleeping or away from home. Or, find out how much energy you save with a laptop instead of a desktop computer.
Operating Voltage: 115VAC Max Voltage: 125VAC

Max Current: 15A Max Power: 1875W

Dimensions: 5 1/8" x 1 5/8" x 2 3/8"
We've had fun as well as a learning experience with our Kill a Watt meter; last December we purchased some of the extremely efficient LED holiday lights and were positively thrilled at their efficiency. Some of the strands use a total of as little as 2 watts! It's also useful in checking your frequency (hertz range); if you are burning out lights or appliances, you may have power quality issues and not know it.

Power strips are a common occurrence around our home and office; while we do leave the fax and answering machine on 24/7, we use these power strips to kill any unnecessary loads when we leave the room. So we have power strips around all computers and printers, the TV & VCR, our entertainment center (stereo, tuner, turntable and CD player). When not in use, all loads are irrevocably turned off.
---
Magnum MS-AE 120/240V pure sine wave inverter/charger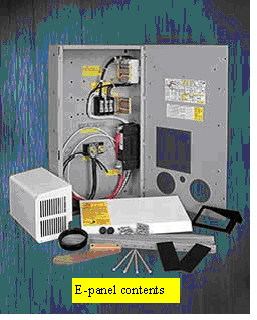 No more stacking! That's right: someone has finally made a battery-based inverter that can produce both 120v and 240v interchangeably without needing to purchase and stack two separate inverters. The new MS-AE pure sine wave inverters from Magnum Energy are available in 4000 (24volts) and 4400 (48volt) watt configurations. If more wattage is necessary, you have the ability to link up multiple MS-AE's in series using a Series Stacking Interface. The inverter is based on the popular MS series that was designed for demanding mobile and off-grid applications and includes a Power Factor Corrected (PFC) batter charger. The PFC uses 25-30% less AC current from your generator than most other leading chargers.

Of course there are additional accessories that are available for the MS-AE. The easy-to-use Remote, allows programming the unit as well as access to various other inverter features. The AGS (Auto Generator Start) Module provides hassle free integration of almost any 2-4 wire start generator.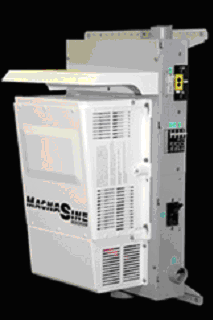 We like to pair up the MS-AE inverters with the simple and cost effective Midnight E-Panel from Midnight Solar. The E-panel comes pre-wired with inverter breakers and cables, AC input and bypass, 500amp/50mV shunt, AC terminal blocks, din rails wall mounting brackets, charge controller bracket, and loads of extra hardware. When using the E-panel, all that is left for the installer to do is mount the inverter to the hinged door, install the necessary breakers and connect a few wires. Not only does this save loads of time, the cost of the panel is not much more than if you were to piece and part it all together yourself. The E-panel is available for a variety of other inverters, including the popular Outback FX and VFX series.
MS-AE 4024/MS-AE 4448 $2499.00
MM-RC (remote) $59.00
ME-AGS $279.00
E-Panel $699.00
Page 5