Page 1
GREETINGS FROM OUR SOLAR POWERED OFFICE: While our winter was not as cold as usual (there were no weeks of -20 to -40 below at nights!), we have had decent snow pack in the mountains, and hope our summer will not be too fiery and smoky from forest fires. Solar water pumping has really taken off for us, and we are happy to have provided water for families, drip irrigation, fisheries and livestock. Renewable energy systems are our focus, for remote homes, utility-tied residences, water pumping, RV, back-up or marine use. We offer complete systems to fit your project's needs. If you want to do something to make your home or business 'greener' give us a call. We also offer a line of efficient electric and gas appliances to help keep a lid on your electric bill.
For those of you who aren't "on line", or are beginning your project, we have an extremely informative Product Catalog on disc for $10 ($18 out of country)—essential for your energy library! Products, system sizing, pricing, components, importance of energy efficient appliances, battery care, and wind turbines are just some of the topics covered. If you are on-line, you can see example systems (costs, components and power output) at www.oasismontana.com/systems.html -- and e-mail us to get on our e-list.
To assist your information input, we've tried to develop as much on-line information as we can. For solar water pumping, see www.PVsolarpumps.com; for utility-tied photovoltaic systems, visit www.grid-tie.com; for efficient AC appliances, DC 'fridges, coolers and freezers see www.eco-fridge.com; for natural and LP gas appliances, see www.LPappliances.com. Our main index page is www.oasismontana.com and we now offer composting toilets at www.eco-potty.com. Visit our web pages and stay a while!
---
NEW MODEL DW2432 EURO ENERGY STAR DISHWASHER

THIS MODEL IS NO LONGER AVAILABLE. FOR ENERGY STAR-RATED DISHWASHERS, PLEASE CHECK www.energystar.gov.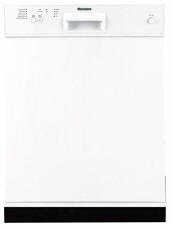 You can keep dishes out of the sink and money in your pocket with this new Energy Star qualified European-made dishwasher. Using only 322 kWh/year with an energy factor of 0.67, it operates a remarkably 43% better than the federal standard. It offers five unique washing programs for your specific cleaning needs, including "quick wash" when time is limited. This model is also ultra-quiet; no more having to leave the kitchen when the dishwasher is turned on. Its many features include folding tines in the upper rack to allow for more space when needed for glasses or cups. These ship direct from the importers in NY state to the end user.
Model DW2432 feature list:
12 place setting
Energy Star Certified
322 kWh/year average energy consumption
5 wash programs
4 wash temperatures
3-way Euro filtering system
Adjustable unloaded upper rack
Cutlery basket
Fold-away upper rack tines for more versatility

Ultra-Quiet
Stainless steel tank
4.35 to 145 allowable operating PSI
120V/60 Hz
1,000 watt heating element
Dimensions: 32 1/2"H x 23"W x21 5.8"D
Door color white, door swing upward
MSRP $860 Our price $735 plus freight!
---
ENERGY STAR RATED EURO WASH MACHINE, MODEL ARWL129NA
(shown here with matching dryer stacked on top)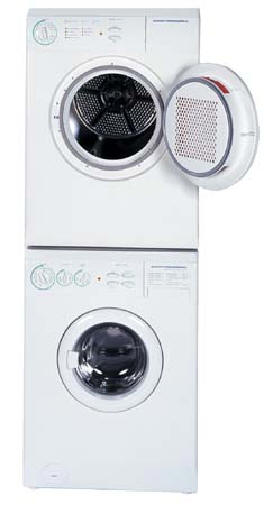 The ARWL129NA will clean your clothes better, and be easier on your clothes than top loading machines. Its reversing action removes more soil and stains than more expensive machines. These machines are built in Europe by Gorenje, a progressive manufacturer, and are similar in performance and components to more expensive European brands. Capacity is 11 lbs.; it's white, door swing is reversible, and shipping weight is 280 lbs. $850 each plus freight.

Features include:
Stainless steel tub

Energy Star listed

12 program wash cycles

1000 RPM

Water heats up to 200 degrees to clean clothes better

3 water levels

Automatic Door Lock

No-spin option

Extra Rinse Option

Manual setting option

Fits under standard counters

U.L. Approved

115V, 60 Hz.
A matching (240V) dryer is available that can be stacked with suction cup kit or set alongside, model number is TCL73XNA, $750 plus freight. Note: Electric dryers are not considered energy- efficient appliances and these are not rated for efficiency.

The washer and dryer above are available as ADA-compliant units as well. The washer (ARWL129NAADA) is $1020, and the dryer ( TCL73XNAADA) is $920, not including freight.
For a real energy efficient way to dry your clothes, check these out!

Mini: $64.95 Small: $89.95 Large: $103.95
We measure drying space by adding up the total usable dowel length.

Model: Drying space * Upright (HxWxL) * Folded * Weight
Mini: 24 ft. * 38"x12"x30" * 30"x16"x8" * 8 lbs.
Small: 34 ft. * 60"x19.5"x40 * 40"x25.5"x8" * 16 lbs.
Large: 40 ft. * 70"x23"x48" * 48"x30"x8" * 18 lbs.

Air drying your clothes will reduce wear and tear on them, and they will last much longer than getting beat up in an electric dryer. These have a 3-4 week lead time.
Page 1