To design a power system for you, we need your power requirements (electrical load information). See our web page for system sizing information and examples of power systems, which are based on the part of the country you're in and how much sunlight you receive. We have design information on our web site, so please feel free to utilize this. Or, we also offer a product and design information CD for just $10.00 ($18 international)-—filled with information for your energy library!

Prices shown are as of November 2007 - call to verify!
SOLAR PANEL PRICING
Call for availability, freight costs, and quantity pricing.

Mitsubishi PV-MF110EC3, 110W, 6.4A, 21,1V (56.1" X 25.4") $Call

Sharp NT-175UI, 175W, 4.95A, 35.4V (62.01" x 32.52") $Call
ND-L3E1U, 123W, 7.16A, 17.2V (59.06" x 26.08") $Call
ND-80EJE 80W, 4.67A, 17.1V (47.28" x 20.88") $Call
(expect price increases by mid-to-late winter on Sharp products)

Kyocera KC200GT, 200W, 7.61A, 26.3V (56.2" x 39") $Call
KC175GT 175W, 7.42A, 23.6V (50.8" x 39") $Call
(generally 60-90 day lead time on the 200s and 175s)
KC130GT 130W, 7.2A, 17.4V (56.1" x 25.7") $Call
(same physical dimensions as the KC120 & KC125--when the ones we have in stock are gone, that'll be it for the 130s until early next year)
KC85T 85W, 4.75A, 17.9V (39.6" x 25.7") $Call

Suntech STP170, 170W, 4.83A, 35.2V (62.2" x 31.8") $Call ea; per skid of 44, $Call
Suntech STP160, 160W, 4.65A, 34.4V (62.2" x 31.8") $Call ea; per skid of 44, $Call.

Uni-Solar US-64 64W, 3.88A, 16.5V (53.78" x 29.18") $Call

Evergreen ES-190-RL, 190W, 7.12A, 26.7V (37.5" x 61.8") $Call
(in pallet quantities of 30, $Call each)

BP SX-30U, 30W, 1.78A, 16.8V (23.4" x 19.8") $Call
BP SX-20U, 20W, 1.19A, 16.8V (16.7" x 19.7") $Call
BSP-2012, 20W, 1.2A, 17.3V (16.7" x 19.8") $Call
Other modules offered as available. Call for your availability, costs and freight.
Regarding MOUNT STRUCTURES for solar modules--
We offer a variety of styles to suit your project, including A-frame roof or ground mounts, top and side of pole mounts, flush mounts, tilt mounts, RV racks, as well as Zomeworks or Wattsun Trackers. If you are looking for a mount structure for your photovoltaic module project, click this link to chose the style that best suits your project: http://www.power-fab.com/products.htm Call for your cost, availability and freight. At this writing, some racks may have a 4-6 week lead time.
Remember those MSX 'Lite' Modules (presently discontinued)?
They were available from Solarex (long since now BP)….they were tough, flat, and durable enough to be literally nailed or screwed to a boat deck. They were light enough to be back-packed, and highly suitable for marine, camping, military and vandal-resistant applications, with grommets in the corners for easy mounting. Well, we have access to a very similar module--with a five year manufacturer's warranty (the same as the original). Check out these lightweight, tough solar modules: the Dura-Series Modules!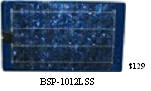 Model # Specs Price
BSP-1012LSS 10W, 17.3V, .58A, 17.5" x 10.5"$Call
BSP-3012LSS 30W, 18.8V, 1.66A, 26.5"x 20" $Call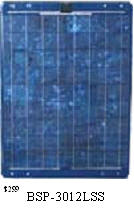 These portable, damage-resistant solar modules are backed by a stainless steel substrate and protected by a laminated tedlar cover. The weight of the 10W module is 2.5 lbs., and the 30W is 11.3 lbs, and there's a wire lead coming off of them (+ & -).

If your project needs a light, small, tough portable solar module, consider the DURA- SERIES MODULES!


CONTROLLERS & REGULATORS are essential for complete battery charging while preventing overcharging. Sizing a charge controller is based on the input amperage and voltage of the solar array. $Call
We can provide most brands of solar charge controllers, from Blue Sky Energy (formerly RV Power Products) to Specialty Concepts. Call us for availability and your pricing.
Outback Power Components Pricing $Call

There are way more Outback Power products than we have room to list….call or e-mail for more information. info@oasismontana.com or visit their web page at www.outbackpower.com They've got a nice product catalog there you can download too, at http://www.outbackpower.com/catalog.htm.

---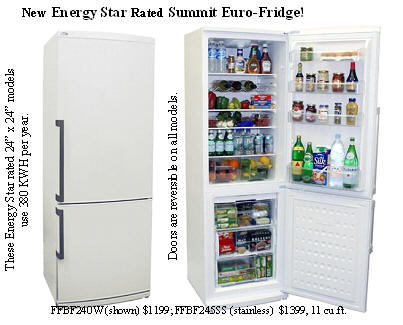 A clone of the popular ConServ? No, this is a new European-made model, Energy Star rated and even more efficient than other similar models! Features include being frost-free, with 24" counter depth, stainless steel wine storage shelf, aluminum handles, quiet operation (42 db or less), 100% CFC free, one year manufacturer's warranty and five year warranty on its single compressor. The FFBF245SS is the same style but with brushed stainless doors and platinum sides. Another 24" deep model is available that is 27.5" wide for those who need a larger capacity (14 cu.ft.) efficient model. See more about these handsome Euro models: www.eco-fridge.com/efficient-refrigerators.html.
---
WHO WE ARE and ORDERING INFORMATION:
Chris Daum, owner and manager of Oasis Montana, has been in the renewable energy field for 18 years. Our staff offers experience, personalized service, quality components and excellent pricing . We are happy to work with your installer, electrician, or contractor. We provide detailed CAD-generated wiring diagrams with the systems we sell. TO PLACE AN ORDER: E-mail or call us for your freight ; if you have any questions about your system or product, please contact us. E-mail is easiest and fastest (but we know that you aren't all on line). We accept Visa/Mastercard (personal and business checks are fine). For our international customers, we accept bank transfers—e-mail or call us for our banking information. Our hours are 8:30 am to 4:00 pm Mountain Daylight Savings Time, Mon. – Fri. If we're on another line when you call, please leave us a message, and we'll get back to you as soon as we can. We don't have a voice mail system (ugh!), but you may have to leave a message if we're with a customer or on one of the other lines. 406-777-4321 or 4309 or e-mail at info@oasismontana.com. We'd be very happy to help you with your power project — send an e-mail or give us a call!