Oasis Montana Fall 2006 Newsletter
page 3 - gas freezers, stocking stuffers
Propane Freezers made by the Amish in the Midwest: Blizzard 10 and 15 cu.ft. Capacity
THIS CHEST FREEZER IS NO LONGER AVAILABLE. PLEASE SEE OUR LP UPRIGHT MODELS AND OUR DC CHEST FREEZERS.
The Blizzard 10 cu.ft. propane chest freezer is currently the largest LP gas chest freezer of its kind. It's totally non-electric and quite efficient in its propane usage, and this can be converted to natural gas at the factory for an additional $50. Here are the specifications:

Outside dimensions: 43.5"W x 45"H x 33"D; interior, 34.25"W x 30"H x 16"D

Available in white only; has a stainless steel burner with push button igniter and flame indicator; has casters for easy moving.

Has top-mounted controls, weighs 220 lbs. (shipping weight 260 lbs.)

Fuel consumption: 1.25 lbs./24 hours, 1750 BTU/hr.

Warranty: one year parts; three year extended warranty available on the absorption system. These are manufactured in the USA and factory tested.

---
The Blizzard 15 cu.ft. capacity upright freezer is the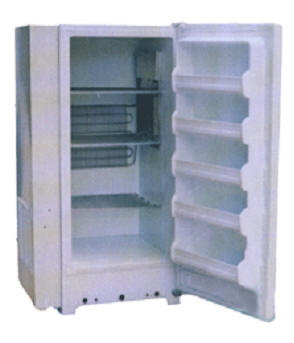 largest LP freezer made; this model actually has two gas absorption units to keep your food COLD. Conversion to natural gas is $100 extra and done at the factory. Do let us know at what elevation you will be using these—at over 10,000 feet there may need to be some adjustments.

Outside dimensions: 40"W x 61"H x 28.5"D; interior, 23"W x 46"H x 23.75"D

Color: white only—right hinge only, with stainless steel burners.

Shelving: offers five deep interior shelves, three quick-freeze interior shelves.

Totally non-electric with push-button igniter, front-mounted controls.

Weight: 324 lbs. Shipping weight: 360 lbs.

Fuel consumption: 2.5 lbs./24 hrs., 3000 BTU/hr.


NO POWER IS NO PROBLEM with these clean, efficient propane models; for other refrigeration ideas visit www.LPappliances.com. NOTE: these do not generally require ventilation unless your house is really tight. It's not carbon monoxide that's a problem, but the flame using up all the oxygen in your cabin. Call or e-mail us if you have any questions.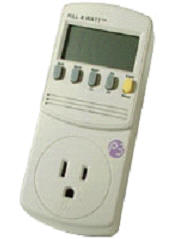 Kill A Watt Meter: The Electricity Detector and Monitor can reduce your monthly electric bill and help you save a lot of money. You can now be a 'detective' and ascertain what machines are actually worth keeping plugged in. Simply plug in the Kill A Watt meter, connect your appliances to it and Kill a Watt will assess how efficient they really are, showing you the watt-hours used.
Kill a Watt with large LCD display will count consumption by the kilowatt-hour, same as your local utility. With the help of Kill a Watt you can figure out your electrical expenses by the day, week, month or year on a given device. Kill a Watt can check the quality of your power by monitoring Voltage, Line Frequency, and Power Factor.
Now you'll know if it is time for a new refrigerator or if that old air conditioner is saving you money—compared to a new one—or not.
Operating Voltage: 115VAC Max Voltage: 125VAC
Max Current: 15A Max Power: 1875W
Dimensions: 5 1/8" x 1 5/8" x 2 3/8"