Oasis Montana Winter 2020 Newsletter index
Keep the lights on with solar power AND storage
.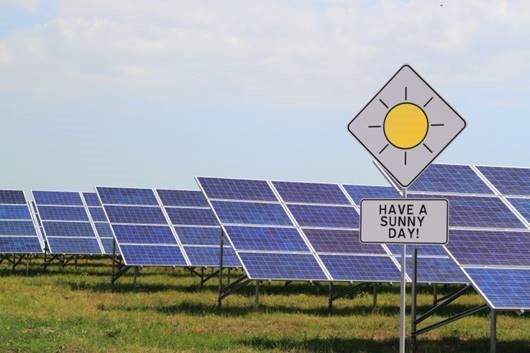 Outback Power's new EnergyCell 1000XLC gives you long-term, stackable battery energy units with a ten year full replacement warranty.
Visit http://www.outbackpower.com/products/energy-storage/energycell-xlc and http://www.outbackpower.com/downloads/documents/energy_storage/energycell_xlc/outback_102019_energycellxlc_datasheet.pdf or call us for more information. NEVER worry about a power outage again. If you have an existing grid-tie system without batteries, call us – we can get you the back-up power you want for the reliability you need.
Now, there are some things a solar power system can and cannot do for you (if you are hooked up to utility power). It can certainly save you money on your utility bill – but the power company will not "pay" you for your excess power, so the best you can hope to do is offset your own home or business's power requirements. Very few utilities have a plan to pay you more RECs (Renewable Energy Credits), if you have excess capacity – which is why we want to know how much power you use, worst case scenario, so you don't spend more money on a power system than it will reasonably generate.
If you are wanting back-up power for your critical loads – call us, 406-777-4321.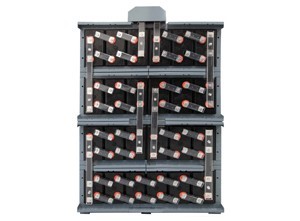 EnergyCell XLC Batteries – 10 year standard full replacement warranty
---
We still have the Chinook wind turbine at its special price, while supplies last!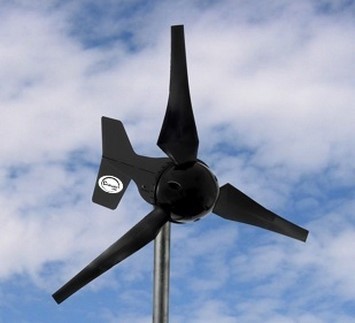 We are offering the Chinook wind turbine for half-price, at $495 plus shipping. You won't find a better deal for a quality, American-made wind generator! It's a great entry-level wind turbine, and with a top end of 250W output, this can be a valuable addition to your battery charging set-up if you regularly have winds of 10-12 mph or greater. These mount on 1.5" schedule 40 steel pipe and come with their own dump load controller. They are available as a 12, 24 or 48V charging unit, and were originally designed and built in Montana (so you know they are tough).

We've had one of these here at Oasis Montana for about six years now, and it still works great. Every spring and summer, we have winds in excess of 80 mph but it keeps quietly making power for our 48V battery bank. These are also suitable for marine use, to help keep your navigation equipment charged and working (as the wind on the water generally seems to be blowing most of the time). We have installation manuals and other information we can send you on these; call if you are interested, 406-777-4309, e-mail us at Oasis or visit our web page at http://www.air403windgenerators.com/chinook-wind-generator.html.
---
AC vs DC Coupling – It Depends!
Having power available when the grid goes down is a popular idea and when we are approached with the question of whether or not it is feasible, our answer consistently comes down to a simple "what is it that you want to do" and "can you afford it"? Of course, it's likely to be feasible, but it may not be the most cost-effective approach.
Newly installed solar systems are the easiest to include either (AC or DC Coupling) and yet we have customers that want to retrofit old, existing solar systems. Maybe it's the fires in CA that have impacted the folks' thinking, or it might be that they are looking at the very vulnerable and unreliable utility grid. For whatever reason the idea has appeal.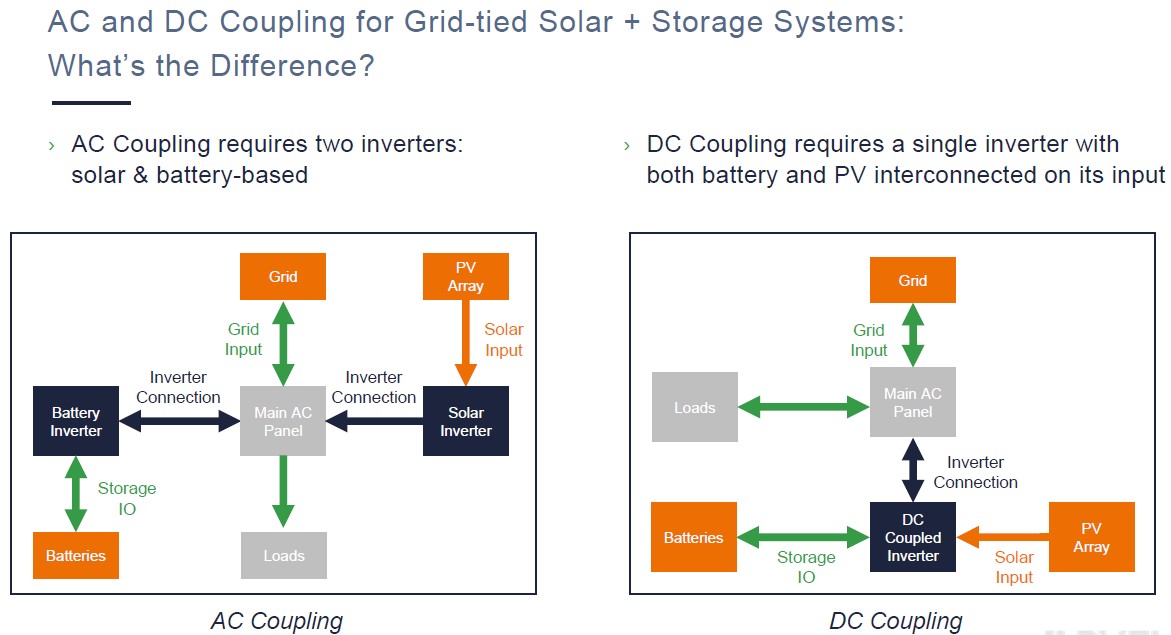 Diagram courtesy of PV Evolution Labs (PVEL). www.pvel.com
To retrofit an existing PV grid-tied system to include an AC coupled solution, you will need to have an additional battery-based inverter, plus the battery charging components (battery bank, charge controller, disconnects, cables, etc…) installed. It is easily accomplished and power to the home/building is available with (generally) insignificant time delays. This solution will incur slight energy losses as energy must be converted and inverted several times. We know that there's no such thing as 100% efficient, and we lose efficiency each time we convert/invert from DC to AC, back to DC and back again to AC, and the addition of a battery bank also increases inefficiencies.
For a DC coupled solution, we have fewer inefficiencies and are able to accomplish the same objective of "uninterrupted" power though with greater costs and complexity. Typically, the solar modules have to be reconfigured, and the inverter must also be able to disconnect from the grid when it fails (in order to not electrify the linemen working to restore power to the neighborhood!). Though more efficient, these systems cost more.
We can do it. We can design a system that uses either of these two means of providing power during an outage, whether for your existing PV system or a new one. Your choice will depend on how to best provide power in times of grid failure when it happens. And like designing for any other system, its size, cost and complexity will depend on your power requirements, and the number of days of battery back-up desired, so the more efficient you are, the less this will cost. We don't know what the future holds, but we can help you choose the right inverter today! Send us an e-mail to info@oasismontana.com or call tech support at 406-777-4321.
---
REAP GRANTS – Rural Energy for America Program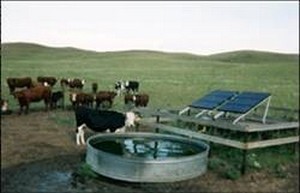 If you are an eligible applicant – a rural agricultural producer or a rural small business – you just may qualify for certain projects. The next round of applications need to be submitted by March 31, 2020 (to compete in the March 31st competition). Visit https://www.rd.usda.gov/programs-services/rural-energy-america-program-renewable-energy-systems-energy-efficiency for more information, or contact your local county extension service.
---
GARDEN SUCCESSES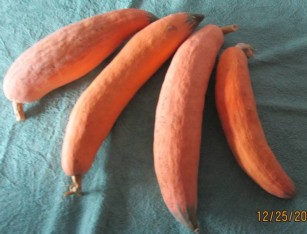 The past couple of years I've been growing Candy Roaster Squash. If you have a 90+ day growing season, consider adding this to your winter squash options. The banana-shaped fruits are big, the plants are large, prolific, the flesh is tasty, orange and sweet; best of all, they are excellent keepers, lasting until spring. Send me a self-addressed envelope with an additional stamp on it, and I'll share a few seeds with you. I've also got a short-season cayenne if you need a little something to spice up your life. Despite last year's crazy and intermittent warm weather, our garden at the Oasis did very well. Food should be tasty, organic and preferably, homegrown! Send your self-addressed stamped (or just a couple of stamps) to Oasis Montana, 436 Red Fox Lane, Stevensville, MT 59870, and we'll be happy to share some seeds.
---
N
ON-ELECTRIC APPLIANCES
certainly have their niche for off-grid residences where you're trying to use as few watts as possible.
We have drop-in gas cooktops, refrigerators, freezers and ranges that all work without any AC power, run on propane or natural gas, in a variety of colors and finishes including stainless steel. If you need anything along this line for your remote home, cabin, or if you have frequent power outages be sure to check out the offerings at www.LPappliances.com. And, due to import tariffs on raw materials, we are starting to see some cost increases, so get your appliance ordered now for best pricing.
| | | | |
| --- | --- | --- | --- |
| Drop in gas cook tops | Diamond Gas refrigerators | Crystal Cold gas refrigerators | Peerless gas kitchen range |


Renewable Energy News Bites
Is 100% renewables in the U.S. feasible? Yes. https://www.utilitydive.com/news/is-100-renewable-energy-for-the-us-possible-yes/547135/
Is the fuel cell-powered home approaching reality? https://fuelcellsworks.com/news/the-fuel-cell-powered-home-an-approaching-reality
Swedish couple build greenhouse to stay warm and grow food year round. https://returntonow.net/2019/03/04/swedish-couple-builds-greenhouse-around-home-to-stay-warm-and-grow-food-all-year-long/?fbclid=IwAR13CTlzLQ_qRIhL6IjPaXKUZdIuJOIY5bNjuTfHLtOhn_aifeiDLLsZRZ8
What if our southern border was an energy wall? https://www.renewableenergyworld.com/articles/2019/03/what-if-the-usmexico-border-wall-was-an-energy-corridor-that-could-pay-for-itself.html?cmpid=&utm_source=enl&utm_medium=email&utm_campaign=renewable_energy_news&utm_content=2019-03-13&eid=291084889&bid=2392016
Fighting fire with…solar power? https://pv-magazine-usa.com/2019/03/20/reducing-the-risk-of-fire-with-rooftop-solar-batteries-and-microgrids/?utm_source=pv+magazine+USA&utm_campaign=af81e8df01-RSS_EMAIL_CAMPAIGN&utm_medium=email&utm_term=0_80e0d17bb8-af81e8df01-155454613
The money behind climate change denial: https://www.smithsonianmag.com/smart-news/meet-the-money-behind-the-climate-denial-movement-180948204/?fbclid=IwAR12Ia7hZCx1y4jxLbv4-ifVMyrLn17U3cyqzDK2m2LtwLhUZ-ucgfTOoNE#MxwHAt6SHQCZoiA3.01
Climate Change Is Costing the U.S. Air Force Billions:
https://cleantechnica.com/2019/04/05/climate-change-is-costing-the-air-force-billions
Tyndall Air Force Base, located 12 miles east of Panama City, Florida, is just one of several military bases hit by extreme weather in the past year, and the high cost of repairs foreshadows a major upcoming problem for the U.S. military. For example, the Air Force announced that it was seeking $5 billion for repairs to just two bases following recent extreme weather events, Tyndall and Nebraska's Offutt Air Force Base. Both are smaller bases that officials say were completely unprepared for the severe impacts of October's Hurricane Michael and recent floods in the Midwest. Since money made to make immediate repairs to the two bases came from other operating budgets, the Air Force will also be forced to cut projects at 61 bases in 18 different states and cancel nearly 20,000 pilot training hours to make up for the money it already spent.
Skeptical science about climate disruptions:
https://skepticalscience.com/argument.php?fbclid=IwAR2w1wFDVZYlG6-rj-mvaJCC-9CQYe_qBCEGasLXZE3GKUIKbHTro6ciQPI
Interesting article on the rise of composting toilets: https://www.theguardian.com/global/2019/dec/09/no-flush-movement-composting-toilet-clean-water-waste-fertiliser-eco-revolution?utm_term=RWRpdG9yaWFsX0d1YXJkaWFuVG9kYXlVUy0xOTEyMDk%3D&utm_source=esp&utm_medium=Email&utm_campaign=GuardianTodayUS&CMP=GTUS_email
Air conditioning is heating the world: https://www.theguardian.com/environment/2019/aug/29/the-air-conditioning-trap-how-cold-air-is-heating-the-world?utm_term=RWRpdG9yaWFsX0d1YXJkaWFuVG9kYXlVUy0xOTA4Mjk%3D&utm_source=esp&utm_medium=Email&utm_campaign=GuardianTodayUS&CMP=GTUS_email
With lithium batteries, chemistry matters: https://www.linkedin.com/pulse/chemistry-matters-catherine-von-burg
Tips to keep cool this summer: https://smarterhouse.org/news/blog/keep-your-cool-summer-tips-smarterhouse
The U.S. spends ten times more on fossil fuel subsidies than education: https://www.forbes.com/sites/jamesellsmoor/2019/06/15/united-states-spend-ten-times-more-on-fossil-fuel-subsidies-than-education/?fbclid=IwAR3KHJW_rlyoUo9AJdZ-tmp9pd5fbuV7sDF3szF-A_BpkZHnSF66YOY5tsA#30ec4a484473
Fossil fuel subsidies outspend the Pentagon: https://www.rollingstone.com/politics/politics-news/fossil-fuel-subsidies-pentagon-spending-imf-report-833035/?fbclid=IwAR1TXHoNsu0Md82-3WGV0msskQlmiSkuud--chF1IH6v_sPtYsGFOuD9VD4
How important broadband access is: https://www.axios.com/limited-broadband-access-economic-mobility-poorest-states-b6d3e12b-2fcc-4b09-9ebd-fbb822f008fc.html
How to stay warm and use less energy: https://smarterhouse.org/news/blog/baby-it%E2%80%99s-cold-outside-how-save-energy-and-keep-warm-winter
Making every energy unit count: https://aceee.org/blog/2019/08/making-every-energy-unit-count
Can solar and batteries outlast an extended power outage? https://www.greentechmedia.com/articles/read/can-solar-and-storage-weather-a-days-long-power-outage-it-depends?utm_medium=email&utm_source=Solar&utm_campaign=GTMSolar
Good news for Montanans! https://pv-magazine-usa.com/2019/11/26/montana-maintains-net-metering-for-now/?utm_source=pv+magazine+USA&utm_campaign=0a7075602c-RSS_EMAIL_CAMPAIGN&utm_medium=email&utm_term=0_80e0d17bb8-0a7075602c-155454613
Here's a neat NOAA site for weather extremes. Check it out: https://www.ncdc.noaa.gov/extremes/scec/records
Winter conditions, snow and solar: https://www.youtube.com/watch?time_continue=56&v=q4RVHyx9RMc&feature=emb_logo
Shutting down coal plants saves lives: https://thehill.com/policy/energy-environment/476962-shuttering-of-coal-plants-has-saved-26k-lives-in-us-study and https://www.theguardian.com/environment/2020/jan/06/coal-power-pollution-gas-saved-lives-study
Our future will have more battery options: https://pv-magazine-usa.com/2020/01/09/battery-technology-news-roundup-zinc-battery-funding/?utm_source=pv+magazine+USA&utm_campaign=8c575a175d-RSS_EMAIL_CAMPAIGN&utm_medium=email&utm_term=0_80e0d17bb8-8c575a175d-155454613

---

2020 U.S. federal tax credit for renewable projects will now be at 26%;
that means your solar project should be installed and paid for in 2020.
Starting January 1, 2020, the ITC is decreased to 26%. Outlined below is the ITC step-down structure for the years to come:
2020: Owners can deduct 26% of the cost of the system from federal taxes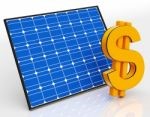 2021: Owners can deduct 22% of the cost of the system from federal taxes
You'd better get your project finished! Or plan for next year… Here's the residential tax credit form for your accountant: http://www.irs.gov/pub/irs-pdf/f5695.pdf The tax credit is for all costs associated with your solar power system, including permitting, labor, equipment, and perhaps even a roof upgrade (if needed).
---
Quotable Quotes:
"Until the great mass of people shall be filled with the sense of responsibility for each other's welfare, social justice can never be attained." –Helen Keller
"What is a weed? A plant whose virtues have never been discovered." —Ralph Waldo Emerson
"Greed and stupidity are what will end the human race." –Stephen Hawking
Boston University president Daniel Marsh made this prediction in 1950: "If the television craze continues with the present level of programs, we are destined to have a nation of morons." -Daniel Marsh
"The eyes of the future are looking back at us and they are praying for us to see beyond our own time." –Terry Tempest Williams
"Show me a sane person and I'll cure him for you." –Carl Jung
"Trump says there's a war on coal. iPhones weren't a war on rotary phones, they were a revolution. The horseless carriage wasn't a war on horses, it was a revolution. The ice box wasn't a war on salted meats, it was a revolution. #cleanenergy isn't a war on coal, it's a revolution. --Senator Ed Markey
"If you want to know who controls you, look at who you are not allowed to criticize." --Voltaire
"The children now love luxury; they have bad manners, contempt for authority; they show disrespect for elders and love chatter in place of exercise. Children are now tyrants, not the servants of their households. They no longer rise when elders enter the room. They contradict their parents, chatter before company, gobble up dainties at the table, cross their legs, and tyrannize their teachers." --Socrates (some things never change)
---