Oasis Montana Spring 2007 Newsletter
Page 3 - New Renewable Energy Products
A corny idea….You've probably been hearing about the lack of genetic diversity in our common foodstuffs (i.e. like corn — being a major ingredient in many of our foods, animal feeds and other products).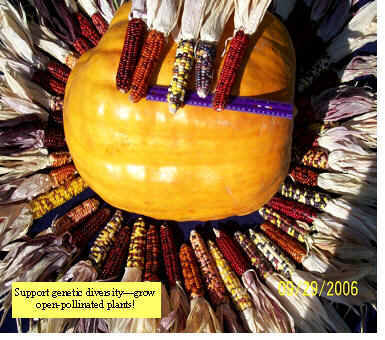 I have had the good fortune to be given and grow some seed from the southwestern U.S. (Arizona to be more precise) that is from a strain over 1200 years old. I know a fellow who knows a fellow who knows an archeologist….who found these small cobs of corn in a pueblo that hadn't been disturbed in at least twelve centuries. Anyway, I want to spread this seed around as cheaply as I can, so if you will send me $1.00, or a self-addressed, stamped envelope (with 63˘ of postage on it), I will be happy to send you about 1-2 ounces of this gorgeous corn. These postage costs are only for the U.S.

You'll get between 100 and 160 seeds; this is a flint corn, suitable for grinding into a colorful flour (and it's also a pretty good sweet corn in the milk stage). It does very well in our intermountain climate—where often we average a 12-14 week growing season. It's about 5 ft. tall and usually bears at least two ears. The colors are gorgeous as you can see! I have been growing this corn for 20 years; it's one of my favorite crops, very beautiful and versatile.

---
RE Product News & stuff…
Outback Power Systems has introduced a new line of gray Flexware integration products (AC & DC disconnects, mounting plate, charge controller brackets, etc.) that will make it even easier and less expensive to install a dual or quad set of their FX/VFX inverters. You can find more information, and their catalog, at http://www.outbackpower.com/catalog.htm

Xantrex has released their largest 5 kW GT 5.0 battery-less grid-tie solar inverter and at the same time announced that all GT grid-tie solar inverters purchased after 2/1/07 now come standard with a 10 year warranty.

Xantrex is planning to release a new line of battery based XW sine wave inverters later this year that will be able to produce 120/240 VAC power from a single inverter. Details to follow.

Fronius just announced that all of their IG grid-tie solar inverters and DatCom products sold after 1/1/07 come standard with their 10 year premium warranty.

Oasis Montana will soon be offering HuP Solar One batteries—with features including long life, 10 year warranty, excellent customer support and free freight!

Call us if you have questions on any of these products, pricing or availability (406-777-4309) 406-777-4321 or send an e-mail to info@oasismontana.com).
---
New from Morningstar: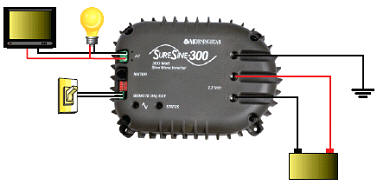 SureSine 300W Inverter! This product is a pure sine wave inverter, a good choice for small PV systems for telecom, remote cabins, RV/caravans, and boats. It is highly reliable, having no internal cooling fan or other moving parts prone to failure. Key features include a continuous power rating of 300W with surge (peak power rating) to 600W for ten minutes; it is designed for 12V systems with a peak efficiency of 92%. It consumes 450mA while powering loads, and during no load conditions, little energy is wasted as the SureSine powers down to stand-by mode, reducing self-consumption to 1/10th of operating consumption (~8 watts). It provides quality AC equivalent to grid power, making it suitable for sensitive electronics like laptops or audio equipment, and it generates good wave form throughout the range of input voltages (10.5V to 15.5V). It also offers extensive automatic electronic protections against faults and user mistakes such as short circuit, overload, high temperature and low voltage disconnect. The manufacturer, Morningstar Corporation, has a 2 year warranty on this new inverter. It's a great deal for a small PV system! Also available for 220V, 50 Hz.
Mechanical Specifications:

8.4"L x 6"W x 4.1"D
Weight: 10 lbs.
AC Terminals: 12 ga. AWG
DC Terminals: 14 to 2 ga. AWG
Enclosure: IP20 Cast anodized aluminum

Electronic Protections:

Reverse Polarity (fused)
High Voltage Disconnect
AC Short Circuit
Low Battery Disconnect
AC Overload
High Temperature Disconnect
Visit www.morningstarcorp.com for more info, then call us for your pricing!
---